Allen, TX
Napoli's Italian Restaurant
Our Hours
Closed:
Mondays
OPEN:
Tues, Weds, Thurs
Sun: 11AM – 9PM
Fri & Sat: 11AM – 10PM
LOCATION:
1512 E Exchange Pkwy
Allen, TX 75002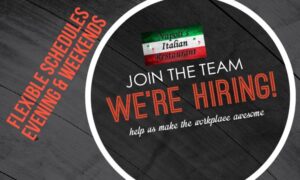 We are accepting in-person interviews for front-of-house staff, (servers, hosts, drivers) at our Allen location. Come to our Allen location and complete an application and meet our staff.
Napoli's Pizza
We have the best pizza in Allen
Napoli's Italian has a number of different styles of our homemade pizza's to fit any family or event. See our menu and see what you like.
Catering and Events
We can provide you with a per-person catering price or a group amount. Please call to book your event in advance. (214) 495-8526
We ordered Mother's Day lunch and it was fantastic! The curbside service was exceptional and they even gave my mom a 3 carnation bouquet of flowers for Mother's Day! Highly recommend and we look forward to trying it again!
Very good! We came and ordered different pastas on our first visit and we liked those enough to come again. We had noticed that many other tables were having pizza and the delivery boxes were nearly flying out the door. We returned to get pizza and it did not disappoint!
A hidden gem indeed.. Smells delish as soon as you walk in the door. The food taste fantastic, one of Allen's best. Friendly, smiling staff. We will be back again! Thank you!
I wasn't sure what to expect of this place when we arrived. It is very small, and the menu is a bit more limited than some other Italian places. The waitress was very attentive (in fact the entire staff was on the ball) and got our orders taken promptly.
1512 E Exchange Pkwy
Allen, TX 75002